The Real Reasons For Divorce
The reasons for divorce vary from one person to the next, and the legal grounds claimed on the divorce papers usually only tell part of the story. 
By Tracy Achen, Divorce Coach
First of all, in no-fault states the only grounds for divorce are irreconcilable differences (the marriage is irretrievably broken). These states include Colorado, Iowa, Kentucky, Michigan, Minnesota, Montana, Nebraska, Oregon, Washington, and Wisconsin.
The rest of the states allow a spouse to declare other grounds based on marital misconduct as the reason for divorce. Even though each state has specific fault grounds (you can look up the statutes for your state), the most common ones are:
Insanity
Adultery
Domestic violence
Abandonment
Imprisonment
Alcoholism or drug addition
Separation
Marriage entered into fraudulently
Misconduct by spouse
I'll admit, these are some good reasons for divorce, but I wanted to find out what our visitors considered the main cause of the breakup of their marriage. Below you can see the results from our ongoing divorce survey: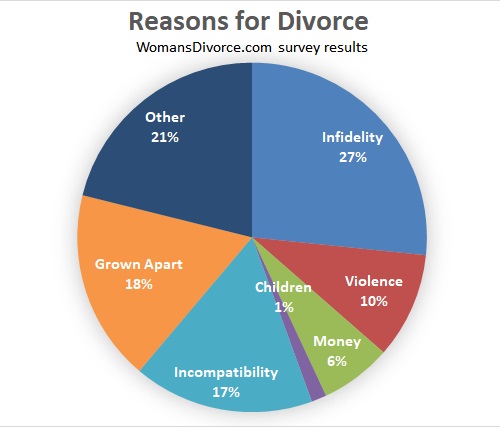 Answers

Infidelity
Violence
Money
Children
Incompatibility
Grown Apart
Other


Percentage

26.6%
9.8%
6.6%
1.4%
16.7%
17.7%
21.1%

Given that 21.1% of the respondents chose "Other" as a cause for their divorce, it made me wonder what I was missing. Could it be there is a lot more to the story?
Most people who have gone through a divorce will probably tell you there were multiple reasons why their marriage didn't work out. After talking with other women and doing a lot more research, I've expanded my original list to include more specific reasons for divorce, as outlined below:

Specific Reasons for Divorce
Abusive Behavior:
• Physical Abuse
• Mental or Emotional Abuse
• Sexual Abuse
• Controlling Behavior

Major Life Changes:
• Death / major illness of family member
• Major Illness of you or your spouse
• Loss of a job
• Financial Problems

Irreconcilable differences:
• Religious differences
• Married for the wrong reasons
• Differences in career/personal goals
• Cultural differences
• Communication problems
• Intellectual Incompatibility
• Unwillingness to compromise
• Problems with parents or in-laws
• Different money management styles
• Different financial goals

Other Issues:
• Criminal behavior or incarceration
• Mental Illness or Insanity
• Marriage entered into fraudulently
• Desertion
• Child Abuse

Addictions:
• Alcohol
• Drugs
• Gambling

Children:
•Decision to have children
•Fighting over discipline
•Different parenting styles
•Parenting duty inequity
• Step-children issues

Grown in Different Directions:
• Grown Apart
• Don't respect your partner
• Immaturity
• Leading separate lives
• Fallen Out of Love
• Married too young
• Constant fighting
• Lack of commitment
• Midlife crisis
Sexual Problems:
• Infidelity
• Porn Addiction
• Impotency
• Lack of Sex
• Sexual Incompatibility
• Sexual orientation issues

As you think back over your own situation, you will probably agree there is usually not one single factor that caused your marriage to fail, but rather a multiple of factors.
Causes of divorce from our visitors
Click below to read contributions from other visitors to this page...

Return to top of Reasons For Divorce 

---
Other articles covering some of the main causes for divorce: