How to Get a Divorce Online
Getting a divorce online is an easy way to do your own divorce papers in the privacy of your own home.
By Tracy Achen 
While you'll still have to go to the courthouse to file your petition and pay your filing fees, this is an affordable option for couples who are able to mutually agree on the details of their divorce. In fact, it's only available for people who are seeking an uncontested divorce.
Can you imagine not having to take time off from work to go to various meetings or having to wait forever for your lawyer to call back? What is so nice about getting an online divorce is you can proceed at your own pace, without the pressure of having to make snap decisions on issues you're unsure about. If you need to stop for a while to get financial records or work through some concerns, everything will be saved for you.
How does online divorce work?
Whether you're doing your own divorce online or using a lawyer, you'll first need to meet the residency requirements of your state to get the process started. To find out the residency requirements, you can look up the divorce laws for your state. 
Generally, doing an online divorce means you'll download the divorce forms and file the finished paperwork with your local courthouse. There are different options for accessing the divorce forms you'll need for your divorce.  Most state court websites offer downloadable divorce packets.  You can also use an online service that specializes in uncontested divorces. 
Most online divorce services will ask you a series of questions and your answers will auto-fill your divorce papers which will meet the requirements of your state.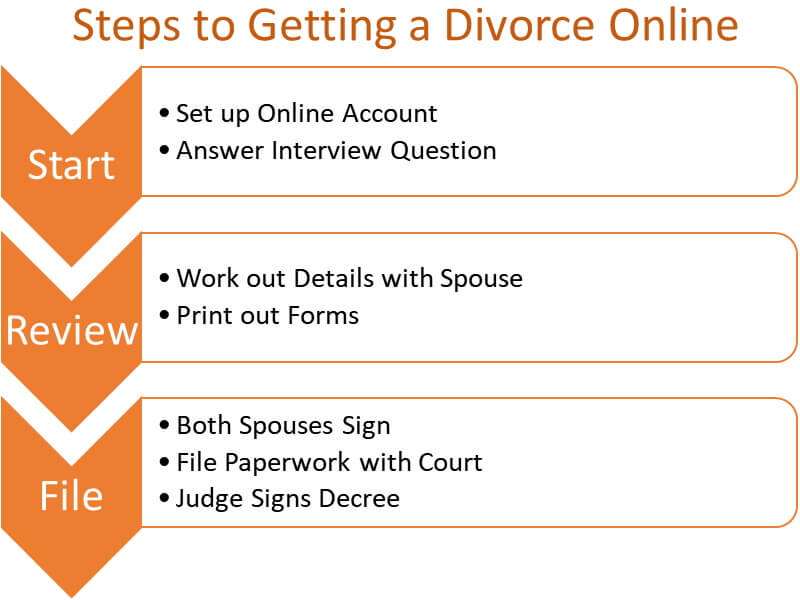 Your paperwork will include forms addressing the division of marital property and debts, alimony, parenting plan information for minor children of the marriage, child support documents, and any other requirements specific to your state. After you and your spouse agree on all the issues and print out the completed forms, they will need to be signed and notarized before they can be filed with the court.

If you are using an online service, you'll receive instructions on how to file the paperwork with the court. It's important to note that you will also have to pay a filing fee with the courthouse (whether you use an online service or a lawyer). You may also need to make a court appearance to finalize your divorce depending on where you live. 
To finalize your divorce, it will need to be signed by a judge. The finalized divorce decree will then be filed with the courthouse. You should request a certified copy of your divorce decree, as you will need it to change your name and apply for social security benefits, among other things.  
Who should and shouldn't get an online divorce?
While doing your own divorce paperwork will save an enormous amount of time and money, it's not always the best idea in every situation. 
An online divorce is a viable option if:
You and your spouse mutually want to divorce,

you and your spouse can agree on all issues of the divorce, 
the marriage was of short duration, 
there are very few assets and debts, 
all issues regarding minor children of the marriage can be resolved,
you have the time and mental bandwidth to handle everything yourself.
An online divorce isn't a good option if:
You are unable to locate your spouse,
your spouse doesn't want to divorce,

you or your spouse don't agree on all major issues,
your spouse has already hired an attorney,
there are issues of intimidation or abuse in your marriage,
you or your spouse are a member of the military.
In these situations, it is a good idea to hire your own attorney to handle your divorce.
Starting your uncontested divorce online
WomansDivorce.com has partnered with 3StepDivorce.com to bring you an easy to use solution for preparing your divorce papers online. Better than generic divorce kits, you'll receive step by step instructions that walk you through each section of your divorce. Your final divorce papers will be customized to your unique situation, your children (if you have any), and your individual incomes. There are also explanations that answer the questions that often come up and instructions on how to file your completed papers.

In my opinion, this is the best online divorce service around. Not only is the system easy to use, but customers are also able to access a large number of downloadable books and resources to help them understand and work through the issues of their divorce. These are professionally written manuals that go into the specifics of divorce so you can get the answers you need. 
For example, there is a guide written specifically for women, which outlines what to expect in a divorce and how to protect their rights. There are also handbooks and checklists that can help you work through the financial aspects of your divorce so you can understand everything and get a fair settlement. These books are worth more than $700 if you were to go out and buy them, but you'll get free access to them from your account. 
You can get a better idea of how to process works by viewing the online demo. The video walks you through how the whole process works, from setting up your account and completing your divorce papers, to signing the settlement agreement and filing all the documents with the court. You can also review sample divorce forms to see an example of the different documents that would be filed with the court. There are also explanations of the divorce papers which are required for each state.
The cost of getting your divorce online is just $299, which is an excellent value when you take into consideration the free access to the self-help manuals, how easy the system is to use, and the level of customer support they provide. For an uncontested divorce, you'll save a bundle over what it would cost to have a lawyer handle everything. There are also payment options available to make it more affordable.
If you want an easy method of doing your own divorce papers, see if you qualify to get started.
***We may earn a commission for purchases made using our links.

---
Related Topics: