Find a Divorce Counselor or Therapist
Divorce isn't easy and it can take a toll on your psyche. It's devastating to be blind-sided by a spouse's announcement he wants a divorce. And even if you're the one who wanted the divorce (or if it was a mutual decision), it can still turn your world upside down. 
It's common to be overwhelmed during and immediately following your divorce proceedings. The end of such an important relationship in your life often leads to intense feelings of anger, hurt, and resentment. And adjusting to your new life as a single woman can be scary, especially if you have children who are depending on you. Money might be tight after all the legal fees associated with a divorce, which typically leads to even more stress. 
This can all trigger feelings of depression and anxiety. They can fester in your mind and continue to grow if untreated. This is why so many turn to counseling during and after a divorce. 
Finding the best divorce counselor for you
Many women will look through the yellow pages or online for a counselor, which is helpful for finding professionals in your area. But that's not always an option for those who live in less populated areas. And sometimes there's the reluctance to be seen at a counselor's office for fear of what people might say. Wouldn't it be nice to talk with a divorce counselor without having to leave the comfort and security of your own home?


WomansDivorce.com has partnered with BetterHelp.com to bring you easy, affordable access to counseling (*Please note our website receives compensation for referrals to BetterHelp). BetterHelp is an online counseling platform that will allow you to speak to a licensed professional counselor from the comfort of your home by video, phone or direct messaging. 
When you sign up for BetterHelp, you'll be asked a series of questions to help their system understand what you are struggling with. BetterHelp will analyze your answers and match you with a divorce counselor best-suited to meet your needs. Here is what the questionnaire looks like: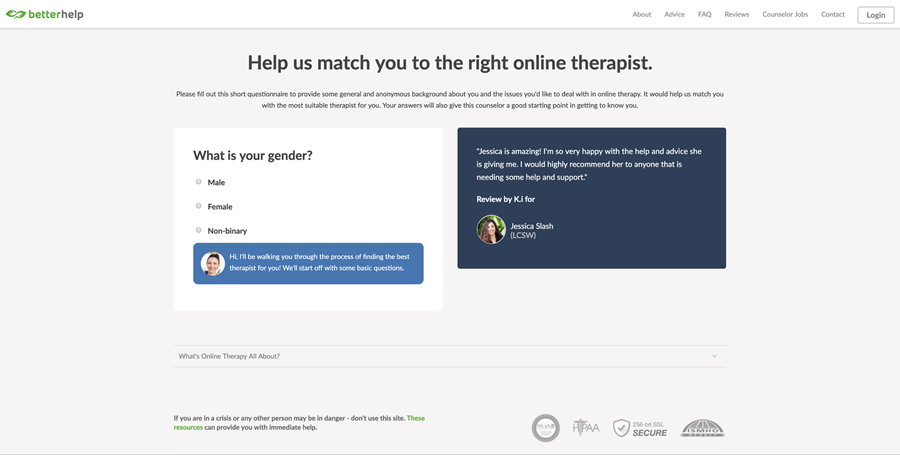 Too often, we settle on a counselor who is closest to our location. BetterHelp ensures you end up with the counselor who has trained their whole career to meet your needs. If for some reason you don't click with your counselor, you can request a new one for free. 
Conducting sessions on BetteHelp is a breeze. After you sign up, you'll be taken to a dashboard shared between you and your counselor. Here you can message your counselor as often as you want, and they usually respond within a few hours. You'll also be able to schedule weekly, live sessions which are conducted via phone call, live chat or video chat. BetterHelp also features weekly groupinars, where you can join online group therapy sessions centered around a variety of topics. 
BetterHelp's monthly memberships are $260, which will get you 4 live sessions and unlimited messaging in-between sessions. The average cost of a single counseling session in the United States is $75-$150, which makes BetterHelp a terrific value. If you are worried about your budget at the moment, BetterHelp also offers financial aid which can reduce your monthly costs. 
Sign up for BetterHelp here.
*Please note our website receives compensation for referrals to BetterHelp*


Related: