Divorce and Separation Information
If you're considering a divorce or separation, or currently going through the process, you need to know what to expect each step of the way. Few of us ever anticipate this stage in our lives, and therefore don't know what options are available to us. Below you will find information about various legal aspects that you may be facing at this point in your life.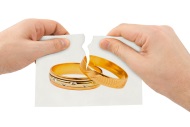 Martial Separation - Things to think about when you split up.

How To Get Divorced - How it works and what to consider.

Financial Issues - Dividing assets and debts.

Legal Professionals - Working with lawyers, mediators, and financial planners.

Do It Yourself - Information, state laws, and resources to help you out.
Midlife Divorce and Beyond - Articles to help those facing late life divorce.

Military Issues - Considerations and issues in military marriages.

Minor Children - Deciding custody, support, and visitation.
Separation
The Legal Process of Splitting Up
Financial Issues
Legal Professionals
Self Help Information
Late Life and Grey Divorce Issues
Military Divorce Issues