How to Sell an Engagement Ring
How to Sell an Engagement Ring
Deciding to sell an engagement ring during or after a divorce has a number of financial and emotional benefits. But what is the best way to sell an engagement ring? How quickly will you get paid? Who will give you the best price?
By WomansDivorce  (We may earn a commission for purchases made using our links.)
Who to sell to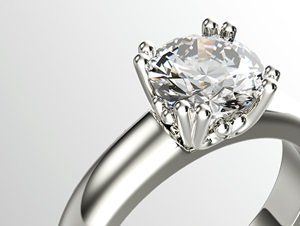 When looking to sell your wedding ring, you have a multitude of options including jewelers, auction houses, pawnbrokers, and online diamond buyers. The reality is that large auction houses such as Sotheby's and Christies only cater for exceptional diamonds (typically extremely large stones or rare fancy colored diamonds.
Meanwhile selling on platforms such as EBay and Craigslist can be a lengthy process with no guarantee of a sale. Pawnbrokers will get you cash the quickest, but aren't diamond specialists and often pay a pittance for wedding sets. And jewelry stores have limited buying power.
Online auction platforms like Worthy, however, present your ring to multiple diamond buyers and are typically able to offer stronger prices. There are multiple reasons for this:  
They are diamond experts who are able to establish the exact value of your engagement ring. 


Online buyers have lower overheads which translates into higher offers for your ring. 


Large, established companies have access to the international diamond market.
The importance of research
Finding a reputable diamond buyer takes some research. You will want to work with a company that fulfills the following criteria:
BBB accredited
Has a credible number of reviews online
Provides a free and transparent service
GIA (Gemological Institute of America) trained diamond experts

The process to sell an engagement ring
Worthy is an innovative online auction platform that presents your jewelry to professional diamond buyers to bid on so you can get the best price for your ring. They offer a quick and pain-free service, making it simple for you to get cash for your engagement ring.
How to sell your ring with Worthy:
Fill out the online form with the details on your engagement ring, along with photos of the ring
If your ring qualifies, you'll be assigned a dedicated account manager to help you through every step of the process.
You'll receive a FedEx label and can schedule a time for your ring to be securely picked up (free shipping and insurance provided).
Once the ring arrives at their New York Headquarters, their expert gemologists will professionally clean and photograph your jewelry.
Then your ring will be professionally graded by an industry-leading diamond lab like the GIA. This helps provide you with objective information that you can use to set your own reserve price (which is the lowest offer you are willing to accept for your engagement ring). 


 Your ring goes to auction, where professional diamond buyers compete for your jewelry. 


Once the high bid hits your reserve, Worthy collects payment from the buyer of your jewelry (which can take a few days). If your reserve price is not met, you can decide whether to accept the high bid or have your item returned, fully insured, at no cost to you. 


Choose a payment method (either PayPal, check, or wire transfer) and get paid fast. You'll receive the final sale amount minus the commission Worthy charges for the auction. End to end, the process takes 10-14 business days.
However you choose to sell your engagement ring, you should feel comfortable every step of the way. Consider all of your options, do your research and make sure to sell your engagement ring safely, for the best possible price.
Related: