Co-Parenting Divorce Tips
Making It Work

These co-parenting divorce articles can help you work through many of the obstacles that divorced parents face.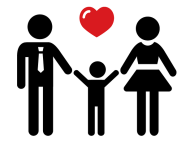 You'll discover how to handle the disputes, help your children adjust, and reach a balance when parenting with your ex. Even though it may be challenging, you can put your differences aside to do what is best for your kids.

Co-parenting Tips
Cooperative Parenting During Divorce - Maintaining your pre-divorce parenting styles will play an important part in your children's adjustment to all the changes.

Parenting Classes for Divorce - Educational programs for parents on the impact of divorce and dealing with their child's reactions to minimize the negative effects, including communicating with the other parent in an effective manner. May be mandatory in some districts.   
Divorcing with Children - Most spouses focus on who gets what in the divorce, but one thing that isn't divisible is the children. Having the right perspective in a custody fight helps.
Co-parenting Tips and Traps - Building a successful post-divorce parenting relationship with your ex is important for your children's well-being. Here are some common mistakes that can hinder the process and how you can avoid them.
Helping Kids Adjust to Living In Two Homes - If your children are having trouble adjusting to the fact that they now have two homes to live in, using these tips can help ease their transition so they feel at home in both houses.
Parenting Teenagers During Divorce - Ideas to make visitation work during the teen years.
Shared Parenting Suggestions - Ideas for avoiding the pitfalls and making the transition between two homes easier on your children.
Having Uniform Rules at Both Houses gives children continuity after divorce and eases their transition.
Cooperative Parenting and Divorce during Special Occasions - Even after getting divorced, both parents are expected to attend special celebrations, graduations, and other school functions. Find out how to handle these events so your child can enjoy their special day.
Handling Post-divorce School Activities - Coping with the awkwardness of school functions and being around your ex after the divorce.
Avoid Playing the Child Messenger Game - Learn how to communicate directly with your ex instead of having your kids relay the message and putting them in the middle of uncomfortable situations.
Sharing Birthdays After Divorce - Why including your ex can make the day even more special for your child. 
When to Have Separate Birthday Parties - A child's birthday is a special time, but deciding how to celebrate it after divorce can be tricky. Here are some tips to help you decide whether to have separate birthday parties or just one big bash. 

Post-Divorce Vacation Pointers - Here are some vacation planning tips to help make summer getaways a lot easier for you, your ex, and your kids.
Divorced Parenting Challenges
Avoiding Uncooperative Co-parenting - Lingering anger over the divorce and what led up to it can keep you anchored to past battles. And it will end up hurting your kids if you have nothing good to say about your ex in front of them.
Disneyland Dads - Does it seem like your ex is trying to buy your kids love? Learn how to cope when your ex indulges the kids.
When Your Child Chooses To Live With Your Ex - It's a common for kids to want to move in with their other parent, but that doesn't make it's any less heart-breaking. If you're facing this situation, here's how to gain a little perspective.
Participating as a Non-custodial Parent - Even if your ex has custody of the kids, you can still be an involved and loving parent. Find out what your rights are and how to remain active in your kids' lives.
Co-parenting with a Difficult Ex - When you share legal custody with your ex, it means you'll need to make major decisions about the children jointly. But how do you handle a difficult ex who won't agree with anything you suggest? These tips can help.
Parents Conflict Affects Children - If you think your bad feelings about your ex have no effect on your kids, think again. Find out why children should be shielded from the ongoing conflicts.
Talking To Your Ex - Why compliments work better than bitter words and can help you bridge the communication gap.
Improve Conversations with Your Ex - Although your marriage has ended, you still have to communicate with your ex about issues concerning the children, which leads to the opportunity for continuing conflicts. Here are some tips to help make these conversations less stressful and more productive.
Co-parenting Communication Tips – If your divorce made it hard to have a civil conversation with your ex, these tips can help you establish boundaries so discussions remain focused on your child.   

Tips For Talking To Your Ex - When you have a difficult relationship with your ex, most conversations have the potential to turn into battles. Here are some tips to help make your co-parenting divorce communications easier.
Changing Your Co-Parenting Relationship - Get tips on making the most of your relationship with your ex while you do what's best for your child.
School Issues and Educational Decisions - Find out who decides where your child will go to school, what rights you have concerning school issues, and more.
Sharing Educational Information - How to handle school records, notifications, homework, and more when you co-parent with your ex.
Special Food Diets and Co-Parenting - When your child has a food allergy, avoiding certain foods is just part of life. Here are some tips to help make sure your ex will comply with the dietary restrictions.
Working Together to Keep Your Child Healthy - Find out how to get your ex on board regarding your child's health issues.
The Gosselins Post-Divorce Parenting Lessons - Are you living your own version of the Gosselin story (vicious arguments, not enough cash, parenting clashes, and kids acting out)? Here's some help.
New Relationships & Co-parenting
Thinking About Shacking Up? - Before you move in with your boyfriend, you need to consider how it will affect your kids and the possible reaction from your ex regarding custody.
When Your Ex Gets A Girlfriend - Just when you thought things were starting to settle down, you're ex hooks up with someone new. On top of dealing with your own feelings about the situation, you may also be facing issues with how your children are handling it. Here are some tips that can help.
Your Ex-husband's New Girlfriend - Clearing the air when your ex gets a significant other.
Divorce and Your In-laws - While you're no longer be related to them, you're ex-in-laws are an important part of your kid's lives. Find out how to nurture the relationship.
Parenting after Divorce
Balancing Parenting Styles - You and your ex may not have always agreed on how to parent your children when you were married. But once you get divorced, these differences in parenting style can become a major source of friction.
Parenting After Divorce - On-going struggles over co-parenting, divorce issues, and visitation can end up causing a lot of distress for your kids. Learn how to build a bridge with your former spouse so you both can do what's best for the kids.
Divorced Parenting Tips - When you find your patience being tested as you parent after your divorce, these tips can help you put everything in perspective and get along with your ex for your kid's sake.
Holiday Survival Tips for Divorced Parents - The holidays are stressful no matter what. Learn how to navigate visitation, avoiding competitive gift-giving with the kids, sharing birthdays and more.
Child Rearing Expenses - How to handle and share the cost of raising your children.
Cost Effective Co-Parenting After Divorce - How to cut the most common costs associated with raising children after divorce.
Green Parenting Tips - These co-parenting divorce tips can help reduce your carbon footprint and save on resources in the long run.