Legal Separation
Legal separation is the solution when you're neither married nor divorced.

If one of you has already moved out, please consider making it legal to protect yourself concerning child custody and support, taxes, and any new debts that might be incurred. It can also help form a basis for negotiating your eventual divorce settlement. All states except Delaware, Florida, Georgia, Louisiana, Mississippi, Pennsylvania, and Texas recognize legal documentation of separation.

Paperwork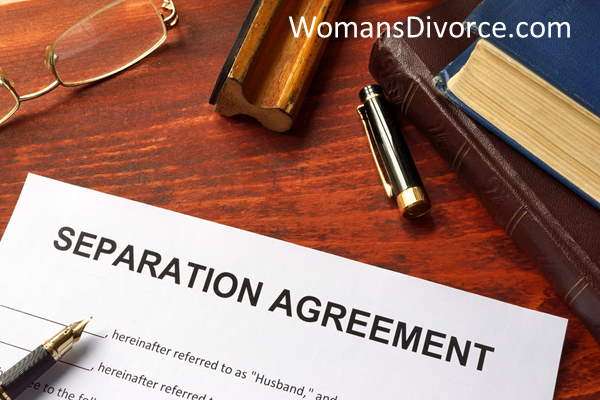 When you consider separating from your spouse, ask what the legal ramifications are in your state, and have your lawyer draw up the separation agreement to best protect you. If you feel up to it, you can also fill out your own separation papers and file them yourself.
Here is a site where you can draft your legal separation agreement online for your individual state. 

Precedence
When you are considering moving out during this period, realize that this might set a precedent for what is awarded in the divorce. If you own a home, it is best not to give up your rights before divorce papers are drawn up.
Try to spell out who will be awarded the home in your separation agreement. If you are renting and choose to move out, this is only relevant if children are involved.
Preparation
Take your name off the lease. If your landlord is unaware of the separation and your spouse doesn't pay the rent, then you will be held liable for anything that is past-due.


Take your name of the utilities (gas, electric, phone, cable, trash, paper, etc.). The same reason as above applies.


Forward your mail to a post office box or to a close friend or relative.


Make note of all address, phone numbers, and account information on mortgages, bank and credit accounts, insurance policies, pension accounts, and any other financial paperwork you will need.


Make copies of all tax records for the past six years. Realize that State and Federal tax agencies are not parties to a separation or divorce, so if there are back taxes owed, you will still be legally responsible for the debt.


Put a freeze on all joint credit accounts. Since you are legally responsible for the debt, you don't want to be paying for his spending spree when he fails to pay on the account.


List what is in safety deposit boxes (it's also wise to take a picture of the contents), and take any personal items.


Pack up what you need, and anything you may want later, such as: 

clothing, shoes, and coats
pictures, books, and movies
family heirlooms and mementos
medicine, make-up, hair dryer, curler
school and medical records, address book, journal
furniture and appliances, dishes, pots, utensils, food
bedding, towels, and bath supplies, cleaning supplies
phones, computer, office supplies
grill, outdoor equipment, tools, recreation and sports gear


---
Article by Tracy Achen. You can click the following link to read more of her articles or check out her book, Divorce 101.

---

If you feel that your marital split will lead to divorce, you will need to keep the following in mind...