Marital Separation Tips:  9 Things to Consider When Separating
It's not uncommon for a couple to separate when their marriage hits a rough patch. This gives them time apart to figure out if their marriage is worth saving or not. If you're considering a marital separation, it's important to take steps to protect yourself legally and financially during your time apart.

By Tracy Achen, Divorce Coach
Here are 9 things to consider when separating from your spouse:
1. Consider Drawing Up the Ground Rules

If one of you has already moved out, you need to consider making it legal to protect yourself concerning child custody and support, taxes, and any new debts that might be incurred. A legal separation is a good solution when you're not living together but haven't pursued getting divorced. All states except Delaware, Florida, Georgia, Louisiana, Mississippi, Pennsylvania, and Texas recognize legal separation agreements.
It's best to consult with an attorney to help with your agreement to protect your best interests and ask what the legal ramifications are in your state. If you feel up to it, you can also fill out your own separation papers and file them yourself. Here is a site where you can draft your legal separation agreement online for your individual state.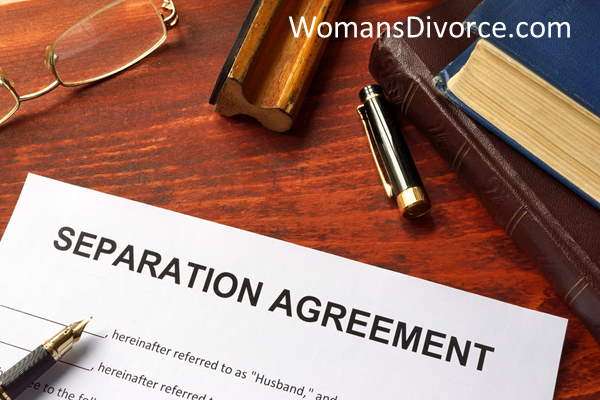 When you are considering moving out during this period, realize that this might set a precedent for what is awarded in the divorce. If you own a home, it is best not to give up your rights before divorce papers are drawn up.
So try to spell out who will be awarded the home in your separation agreement. If you are renting and choose to move out, this is only relevant if children are involved.
2. Gather important documents 
Make copies of essential documents such as financial records, property titles, bank statements, tax returns, and any other relevant documents. This will help ensure you have the necessary information for negotiations and legal proceedings.
List what is in safety deposit boxes (it's also wise to take a picture of the contents), and take any personal items. Also make note of all address, phone numbers, and account information on mortgages, bank and credit accounts, insurance policies, pension accounts, and any other financial paperwork you will need.
3. Protect your financial interests
If you're separating, now is the time to take steps to safeguard your financial well-being. Open a separate bank account in your name, monitor joint accounts for any suspicious activity, and consider canceling joint credit cards to prevent further debt accumulation.
If you don't want to cancel the accounts, you can put a freeze on the accounts so no future charges will be made. Since you are legally responsible for debts acquired during the marriage, you don't want to be paying for your spouse's spending spree when one of you moves out.
4. Consider living arrangements
If you'll be moving out during the separation, you should think about where you'll live. This could mean staying with family or friends, renting an apartment, or seeking other housing solutions. You should also lay out some ground rules about access to the marital home. For example, can the spouse who moves out enter the house at any time?
If you're renting, it's also a good idea to take your name off the lease you had with your spouse. If your landlord is unaware of the separation and your spouse doesn't pay the rent, you can be held liable for any past-due rent and late fees.
For the same reason as above, you should consider taking your name off the utilities (gas, electric, phone, cable, trash, paper, etc.). And since you won't be living in the marital home to check the mail, you should forward it to a post office box or to a close friend or relative. This can help insure you don't miss anything important.
5. Pack up what you'll need
Unfortunately, you might not be able to access to your personal belongings later on if things become strained between you and your spouse. If you're the one moving out, it's a good idea to take everything you'll need immediately, as well as anything you'll want in the future. Here's a short list of things to take with you:
clothing, shoes, and coats
pictures, books, and movies, family heirlooms and mementos
medicine, make-up, hair dryer, curler
school and medical records, address book, journal
your children's personal belonging and clothes
furniture and appliances, dishes, pots, utensils, food
bedding, towels, and bath supplies, cleaning supplies;
phones, computer, office supplies;
grill, outdoor equipment, tools, recreation and sports gear
6. Protect your children during the separation
If you have children, prioritize their well-being throughout the separation process. You need to maintain a positive and stable environment for them, minimize conflicts with your spouse, and consider co-parenting arrangements that are in their best interests. You can outline your parenting plan and the visitation schedule in your separation agreement or get temporary custody papers filed with the court.
You should try to shield your children from any conflict or animosity between you and your spouse. Minimize their exposure to disagreements and maintain a supportive environment for their well-being. If things get testy, you should keep a record of all communication between you and your spouse. This includes emails, text messages, and voice mails. These records can come in handy if a custody fight arises in the future.
7. Take stock of your financial situation
Since you may not have your spouse's financial support during your separation, you need to have a clear understanding of your income, expenses, and assets. Therefore, it's a good idea to create a budget to track your spending and make any necessary adjustments to ensure you can get by.
8. Don't rush into decisions
Try to avoid making impulsive decisions or taking actions out of anger or frustration. Instead, take the time to carefully consider the consequences before making any major decisions and seek professional advice as needed.
9. Wait to start a new relationship
It can be tempting to start seeing someone else when you and your spouse are no longer living together. This is not the best time to start dating again. For starters, it will probably ruin any chances of getting back together with your spouse and making the marriage work.
Another important thing to consider is that this new relationship could be used against you during any divorce proceedings. It can be used as the grounds for divorce, as well as making your spouse less likely to cooperate during divorce negotiations. And it may also be a factor in any future parenting arrangements.
Remember, these are some general guidelines to consider when separating from your spouse. If you will be getting a legal separation, it's a good idea to consult with a family law attorney who can provide personalized advice based on your situation. 


---
Tracy Achen is the founder of WomansDivorce and author of Divorce 101.
Article Updated May 22, 2023
---

If you feel that your marital split will lead to divorce, you will need to keep the following in mind...