Using Mediation in Divorce
By Tracy Achen
Using mediation in divorce is a way for couples to resolve settlement conflicts without having to go through an expensive and drawn-out court battle. Due to its effectiveness in settling disputes, many courts now require mediation before a divorce case is allowed to be brought to trial. If you're wondering about using mediation to negotiate a settlement, here are some things to consider.
Best candidates for a mediated divorce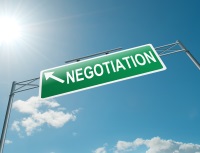 For mediation to be effective, each party needs to be willing to actively negotiate the terms of their divorce settlement. In order to do this, both spouses need to be able to speak up for what they need and want without over-reacting or starting a fight over every little thing. In other words, a couple needs to be able to compromise to make the process work.
Mediation isn't appropriate for all couples though, especially if there is a history or intimidation or domestic abuse in the relationship, or if one party is seeking revenge due to issues in the marriage. It's also not a good idea to mediate a settlement if one spouse is suspected of not disclosing the full financial picture.
How much does divorce mediation cost?
The rates for mediation services vary widely depending on experience and location, but generally range from $100/hour up to $700/hour. In addition to mediation fees, clients are also responsible for the cost of document preparation and filing fees.
For couples who are able to work together in solving their issues, mediating their settlement might cost as little as $400 or $500. In high-conflict cases, this could end up costing up to $5000 or more (which is still cheap compared to a litigated divorce). This is why it is important to discuss the fee schedule and expected outcome before hiring a mediator.
How does the mediation process work?
To begin the process, you need to locate a mediator you can both agree on. You can get referrals from your lawyer or friends who have had a positive experience mediating their divorce. You can also look up various professionals in the phone book. When considering a potential mediator, you should check their credentials and make sure they are experienced in mediating divorce issues and are familiar with the laws of your state.
Next you will need to call and arrange an initial consultation. You may be asked to fill out a preliminary intake form to give the mediator an overview of your situation and help him or her prepare for your first meeting. During this initial consultation, you can ask about what to expect from the mediation process, how you can best prepare, what the fee schedule is, scheduling availability, and location for possible sessions. Your initial meeting will also give you the chance to see if you are comfortable with the mediator's personality and experience.
If both you are your spouse agree to using the selected mediator, you will need to sign the mediation contact. This document generally details the fee schedule, role of the mediator, agreement to full disclosure, etc. After everything is signed, the first mediation session is scheduled.
In subsequent sessions, the mediator assists the couple in trying to reach a compromise on the various issues. This is where an experienced mediator can walk the parties through the various ways an agreement can be reached which is satisfactory to everyone.
How do I prepare for mediation in divorce?
All issues of a divorce settlement can be decided during mediation, so take some time to think about what you really want to achieve. Before your first actual session, you will probably need to fill out a financial disclosure form that includes all relevant financial data concerning marital assets and debts. Not only will this allow the mediator to get a true picture of your situation, it's also required in most states for a divorce to proceed. This will also help you think about what you want resolved in your case.
It helps to have a list of everything the two of you have already agreed on, allowing you to narrow down the issues needing to be resolved. Then make a list of everything that still needs to be settled and prioritize your list according to importance. Most importantly, think about your bottom line. For example, if your spouse isn't likely to pay you a cash settlement, what is the minimum amount of assets or property you would be willing to accept in exchange.
How long will the process take?

Most sessions generally last one to two hours each, with additional sessions scheduled to work out unresolved issues. Depending on the complexity of the case and the number of issues the parties disagree on, mediation generally takes from one to four sessions, but may require several sessions if the clients are unable to work together to reach a settlement.
Even though a divorce can be mediated in one or two sessions, it's good to know that not everything has to be decided at once. If you feel like you're being pressured, request a break so you can consider the proposal and consult with your attorney before making a final decision.

What are the possible outcomes?
1. Full agreement: If a couple is able to agree on all the issues that need to be settled, the mediator can draw up a settlement agreement for each party to review and have their respective lawyers look over. If there are no further issues, this agreement can be signed by both spouses and incorporated into the divorce petition, which would then proceed as uncontested.
2. Partial agreement: Sometimes mediation can't resolve all the issues in a divorce case. In these situations, the couple can draft an agreement on those issues they do agree on and possibly go to court to have the other issues resolved by a judge.
3. No agreement: When a couple is unable to agree on anything, their settlement issues will need to be resolved by other methods or decided by a judge. 

Will I need my own attorney for mediation to work?
If a couple truly wants an uncontested divorce and can agree on the majority of things in order to reach a fair settlement, they may not need to retain an attorney. Some mediation services will help their clients prepare all the necessary documents required to file everything with the court. Even so, it's always a good idea to have a lawyer look over the proposed settlement before signing anything. 


---

---

In the absence of hostility or intimidation, using mediation in divorce can be very helpful in resolving conflicts and avoiding high legal fees. For more information on mediation, check out the following articles: