Shacking Up after Divorce: What to Consider When You have Children
It's tempting to think about shacking up with this wonderful new person you've fallen in love with after your divorce. After all, you've started healing your heart and you're ready to get on with your life. It seems logical that living together will give you a chance to know them better, especially if you're thinking about marrying this person at some point.
But, you also need to think about how your children and your custody situation might be affected by such a decision. The article below highlights some of the complications that often come up when divorced parents decide to live with someone new.

---
Shacking Up
By Brette Sember, J.D.
When you're thinking about whether or not you should move in with your new love, you need to of course examine your feelings about the person and evaluate the relationship. That's not all you need to do, however.
You should also examine the relationship your child has with this person. Have they had time to get to know each other? Are they friendly with each other? Does your child feel comfortable around this person? Is this person a good role model for your child? Does he have skills that allow proper care of your child?
When someone moves in with you, he assumes a parental role with your child, whether you intend for that to happen or not. If you move someone in that your child is not comfortable with, you create a difficult situation for your child.
Think about how you would feel if someone you didn't really know was suddenly living full-time in your home and exercising at least some authority over you! It would be pretty disturbing. While you may have spent a lot of time with your new partner, your child might not have had as much of an opportunity to develop a relationship, so you want to make sure they have truly gotten to know each other and feel comfortable around each other.

A Smooth Transition
Once you make the decision that your new partner is going to become part of your household, talk to your child about this. It's very important that you set some boundaries for everyone. Let your child know the new member of the family is someone to respect and welcome. Let your new partner know that he has got to take things slow with your child.
It can help to verbalize some household rules for everyone to follow - such as rules about privacy ("He won't go in your room without your permission") and authority ("When I'm not home, he's the adult in charge"). It simply takes time for everyone in a new living situation to adjust. Keep the lines of communication open, so everyone can work through the situation as it develops.

Impact on Custody
Your ex may express concern about the new living situation - and if you were in his shoes you would likely feel the same way. While you do not owe your ex any explanations, you will make things much easier if you allow your ex to get to know your new partner and find out that he is truly a great person. Remember that your ex will probably have real concerns about how this will affect your child.
It's also possible he could be worried that this new person will somehow replace him as a parent or in your child's affections. You need to reassure your ex that is not the case and that he will always be your child's parent and no one can ever interfere with that. Make it clear that you respect their relationship.
If your ex is concerned about the situation, it can be used as a basis for a change in the custody and visitation plan. Any person who lives in the home with the child has an impact. If he harms your child, creates a bad influence, creates a hostile environment, or disrupts your child's life, it would be cause for concern and something a court would be interested in hearing about.
The thing to remember is that you are not just making choices for yourself, but for your child as well. The home environment has a huge impact on your child and your responsibility is to create a home that is beneficial to your child, first and foremost.


---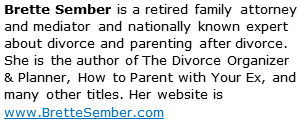 ---
Whether you're just dating or to the point of shacking up after divorce, the following articles offer tips for making the most of your life as a single mom: