Coping with Different Parenting Styles after Divorce
It's common for basic differences in parenting styles to become a source of friction after a divorce, leading to even more conflict, anger, and resentment towards your ex. If divorce teaches you nothing else, it's the realization that you can't change another person. So what can you do when you and your ex have totally different styles of parenting? The following article offers some tips to help you cope.
---
Balancing Different Ways of Parenting
Jan prides herself on being a good mother. She is a highly motivated person who believes in punctuality and clear rules. She loves her children more than anything, but has some firm rules for the kids when it comes to chores, homework, curfews, and TV/computer time. She also makes lots of time to do things with the kids and is always looking for what she thinks of as teachable moments - opportunities to talk about big issues and lay down a good moral foundation for her kids.

Her ex-husband Peter couldn't be more different. When they were married, they fought a lot about what he called her uptightness and she called his lazy attitude. As you can imagine, Peter parents differently than Jan. He isn't as worried about how much TV/computer time the kids have and lets them watch TV before their homework is done. He doesn't expect them to do any chores at his house and in fact doesn't do too many chores himself.
Because Jan is so rigid about bedtimes and curfews, he often returns the kids late just to tick her off and sometimes lets them stay up late on the weekends. He even allowed their twelve-year-old daughter to stay out until 11 p.m., which Jan thought was ridiculous. Sometimes Peter doesn't make dinner for the kids and says everyone has to find something in the fridge that they want.
Jan and Peter continue to fight even after the divorce because Jan feels that the way he parents is outrageous, lax, and simply wrong. No matter how many times she patiently explains how important it is to have a routine, set bedtimes, and consistent rules at both homes, Peter simply won't do things her way.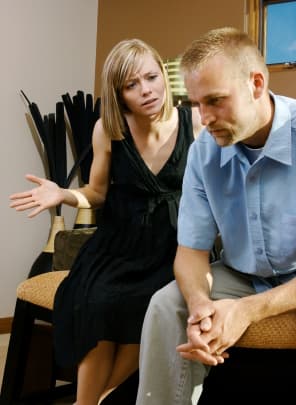 Jan and Peter might seem a bit exaggerated (but believe me, they really aren't - I've seen cases with greater extremes), but I'm offering their story to make a point. It's quite common for basic differences in parenting styles to become yawning gaps after a divorce. Each parent has a tendency to go further to an extreme after a divorce, as if to cement that his or her way is correct.
The end result of this is more conflict, anger, and resentment. Both spouses are learning to parent alone and it's likely they're both going to make mistakes. In fact, they wouldn't be human if they didn't. You might have noticed that separation and divorce rock you to the core and that also applies to your parenting. It's often a time when people take a stand just to have something they can hold on to and this can result in a real clash between parents because they've lost the ability (and sometimes the desire) to work together.
The best way to handle a situation like Jan and Peter's is to remember that no matter how certain you are that your way is the right way, there is no perfect approach to parenting. In fact, your kids will probably benefit from having parents with two different approaches because they will learn to be adaptable.

Of course, there are some situations where this isn't good - children with severe learning disabilities, for example, cannot adapt well and do need consistency. If one parent is lax to the point of endangering the children, that obviously is a bad situation. But in most other situations, the best thing to do is accept that you're both different and that your children need both of you, with all your quirks. 
Tips for Coping When You Have Different Parenting Styles
Reassure yourself that your kids are getting the basics: they are healthy, clean, fed, rested, loved and doing ok in school. If there is a real problem that endangers this, talk to the other parent, otherwise decide you have to let go. 


Create a separation in your mind. What happens at the other parent's house is outside of your control. Stop trying to monitor, evaluate, judge, and affect what's happening there. Put up a mental wall that you will not climb over. 


Get on with things when the kids aren't with you. Don't let yourself be consumed by worry and what ifs. Assume they are happy and adequately cared for and put it out of your mind. 


Don't question your kids about what happened at the other parent's house. Listen to them if they share details, but don't quiz them and try to elicit details about exactly what happened when. Encourage them to resolve problems with the other parent themselves when possible. 


Realize you cannot change how your ex parents. He/she doesn't want and won't take your advice, tips, suggestions, or directives. You're not in charge of what happens there, just as your ex is not in charge of what happens at your house.


Realize that having two parents who are different is actually a good thing for your child. 


---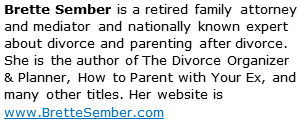 ---
Related Articles: 
Child Health Issues and Co-parenting 

Your Parenting Relationship with Your Ex 
Post Divorce Parenting Lessons