Using Grocery Coupons to Save Money after Divorce
Using grocery coupons can be a great way to save money on your food bill, especially when combined with smart shopping tactics.
By Tracy Achen 

To get started, check out your Sunday newspaper for the ad insert. If you find discounts or rebates for products that you might possibly use in the near future, clip them out. You can also find discounts in many magazines geared towards women. 
Many stores are now offering digital coupons that you can load to your store loyalty account or to your phone. Some stores that offer loyalty programs include, United supermarkets, Walgreens, Target, Dollar General, Family Dollar, and Safeway. There are lots of stores that offer mobile apps or loyalty programs, so the next time you're in your favorite store, ask to see if they offer such a program. You can also check their website to see if they offer digital deals. 
Also, when you are in the store, keep an eye out for coupons posted right next to certain products. Manufactures post these to entice people to buy their product. Some products also have cents-off offers stuck right on the product. All you have to do is peel it off and hand it to the checker to get the discount. Also, some stores print out coupons related to your purchases when you check out. Just be sure to hold on to them to use them the next time you go shopping or when you need the product.
You can also find printable coupons online. To help you get started, go to a site like Coupons.com where you can print out offers for the brands you use before your next shopping trip. You can also use websites such as the Krazy Coupon Lady or Coupon Surfer to find even more offers.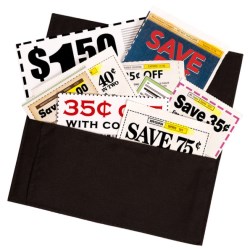 It's a good idea to organize everything for ease of use when you get ready to go shopping. You can use a shoe box or index box to get started, or use the various organizers available at most discount stores. Next, you will need to file them into different categories such as: health and beauty aids, condiments, breakfast foods, beverages, baking needs, snacks and soups, fast food, frozen food, dairy, cleaning needs, and paper goods.

As you organize the various offers, pay attention to the expiration dates. One handy tip is to pull out all expired offers when you put the new batch in. After you have everything organized, you can use these handy shopping tips to save even more money.

Making the most of your coupons when shopping

The first place to start is with the grocery circulars that come in the paper which list that week's sales and specials. If you don't get the paper, most stores have the circulars near the front door. You can also go directly to the website for your favorite grocery store to view the weekly circular online.
Go over the ad, matching sale items to the money saving offers that you have on hand. If a local store has a day when they double the cents-off savings, it makes it even better. The deal can be even better if the sale features a "buy one- get one free" offer.
When making out your grocery list, it's important to take into consideration whether the item in question is something that your family will really eat or use. If your family won't touch it, don't buy it, no matter how much you can save.
It's also a good idea to only go shopping once a week. By only shopping the sales at two or three stores on a weekly basis, armed with your shopping list and couponing organizer, you can prevent a lot of impulse buys. Speaking of impulse buying, sometimes it's best to leave your kids at home, unless they are good at resisting temptation.


---
When money is tight, saving a dollar here and there can make a real difference in your budget. For more tips on getting the most for your money, keep reading: