Practical Ways To Save Money
By Tracy Achen
There are many different ways to save money which will help you stay within your budget and lower some of the frustration in your life. In this article you will find some easy tips to help you stretch your paycheck just a little further. With some extra cash left at the end of the month, you can consider doing some fun things for you and your children.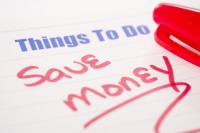 1. Using Coupons and Hitting Sales at the Grocery Store - If you stock up on non-perishable foods when they go on sale and use coupons (especially on the sale items), you can save a lot of money on your monthly grocery bill. If you get your local paper, you can clip coupons out of the Sunday circular. Another idea is to go online and visit the various websites which offer manufacturer coupons. Matching the sale items with your coupons can save you up to $1200 a year. You can find out more at maximizing your grocery budget with coupons.
2. Utilities - Ask your utility company to put you on a monthly average billing plan. This way you can avoid the huge bills that occur due to seasonal fluctuations.
3. Insurance - You can lower your monthly premium on health and auto insurance by raising the deductible (make sure that you have money saved back to cover the deductible). If you don't currently have insurance, or need better rates, you can shop around for the best rates at companies like netquote.com or InsureMe.com, which match you to companies with the best premiums based on your insurance needs for auto, homeowners, life, and health insurance.
4. Eating Out - Taking your lunch to work twice a week instead of eating out can save you at least $500 per year, plus it will give you more time to enjoy your lunch break.
5. Carpool - Sharing the ride to work with one other person can cut your transportation costs immensely (especially with today's high gas prices).
6. Movie Channels - Cancel the premium channels that usually come in the cable bundle if you really don't watch them that much, and save $120 a year.
7. Bank Fees - One of the many ways to save money is to compare prices between banks. If you don't have to pay a monthly fee, you will save at least $72 a year.
8. Clothing - Shopping for clearances when stores begin to put out next seasons clothes can save 30-75% on you family budgeting for clothing.
9. Linens - If you shop during the white sales (usually starting in early in the year), you can save up to 40%.
10. Magazines and Newspapers - Get a subscription for the publications that you always buy at the store. Consider doing a magazine swap with your friends. When you and your friends are finished with a magazine, exchange them with each other.
11. Free Samples - This is a great way to try out new products with little or no money out of your pocket. Plus, these are samples of the major brand you'll really use. The best way to find these deals is to visit the manufacturer's website to see if they offer free samples. Usually they will have it advertised on their home page or there may be a link directing you to the page with the free offer.
Using just half of these suggestions on ways to save money can easily save you up to $2000 a year. When your expenses aren't eating you up you'll be under less pressure and more able to concentrate on the important things in life.

---
Articles by Tracy Achen 


---
Additional ways to save money: