Divorce On TV
Using It as a Spring-board for Communication

The portrayal of divorce on TV varies between knock-down drag-out to idyllic, whereas reality is somewhere in the middle. If you have children and are going through a divorce or have been through a divorce, you can bet that they are comparing your situation to what they are watching on TV.
By discussing the differences and similarities between TV divorces and your own situation, you can open the door to better communication and understanding of divorce with your children. Read on for more information on how to handle this situation.

---
Divorce and the Media
If you have children ages eight and up, they probably see a lot about divorce on TV. And frankly most of it is not good. TV shows, movies, and news reports frequently focus on the dark side of divorce - after all there isn't much of a story when two people part in a reasonable way and make adult decisions together about their family and their assets.
Protect Your Children from Divorce in the Media
The best thing you can do is insulate your children from the gleeful media reports about this marriage or that falling apart, or this couple or that couple fighting to death over money or custody. Turn the channel.
It's harder to control what your tweens and teens watch of course. Instead of changing the channel, just be aware of what they are watching so that you can address it.

Encourage Appropriate Shows
Not all portrayals of divorce on TV are bad. In fact, there are a lot of shows that do a very good job of treating things fairly. 7th Heaven, although in rerun land now, is one show that often was able to deal with this topic in a fair and reasonable way. Drake and Josh is a show about two stepbrothers whose parents each got divorced. It can help kids to watch shows that have storylines about other kids who are going through the same things they are.

Talk about It
If your child sees media reports or reads online about a celebrity divorce or custody case, don't ignore it. Bring the subject up. First, ask your child what he thinks about. Find out if it has made him worried about anything and address his fears. Remind him that what you see on TV isn't always true, and only the people involved in the situation really know what is happening. Tell him that sometimes TV exaggerates things that are happening to make them seem more exciting and interesting.
Even when he watches a show that treats divorce in a reasonable way, engage him in conversation about what happened and why it happened that way. Be prepared to admit when things on TV have gone better than things in your own life! You're not perfect and neither is your ex.
Reality Check
Point out to your child that what happened or is happening in your family is completely different from the cases or shows he sees on TV. If your divorce is in progress, reiterate what the plan is and what is going to happen with living arrangements, custody, and so on.
When the situation with a certain celebrity (where he left his daughter a voicemail calling her a pig because he couldn't reach her, due in part to the custody dispute) hit the news, it made a lot of kids feel especially uncomfortable, wondering if their parents thought that way about them. Reassure your child that both parents love him and want what is best for him.
---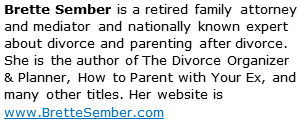 ---
In addition to talking with your children about divorce on TV, there are other opportunities to explain divorce and help them cope with the changes taking place in their lives. The following articles can help: