Reclaim Your Space after Divorce
Reclaim Your Space After Divorce
Are you ready to reclaim your space so that it will reflect your new outlook on life and the vitality you feel now that you're divorced? Or would you rather have your surroundings constantly remind you of the life (and battles) you had with your ex-husband? I didn't think so!
So, why don't you get started redefining your space to embrace the new you. The article below was written exclusively for WomansDivorce.com to help inspire you in re-doing one of the rooms you spend the most time in, your bedroom.
---
You can't move on if you are still sleeping in 'his' bedroom. It's time to redecorate!

By Rebecca West
If your bedroom still looks like the room you shared with your ex you may be damaging your self-image as a woman, preventing new love from entering your life, and missing an opportunity to embrace your new, wonderful life!
For many woman, divorce make us question our worth and our femininity. We think 'I wasn't enough.' If you look around your room and you still see that old relationship, those thoughts and patterns will continue to haunt you. It's time to purge the old and bring in the new, so you can see yourself as the woman you are - beautiful and deserving.
It's time to reclaim your space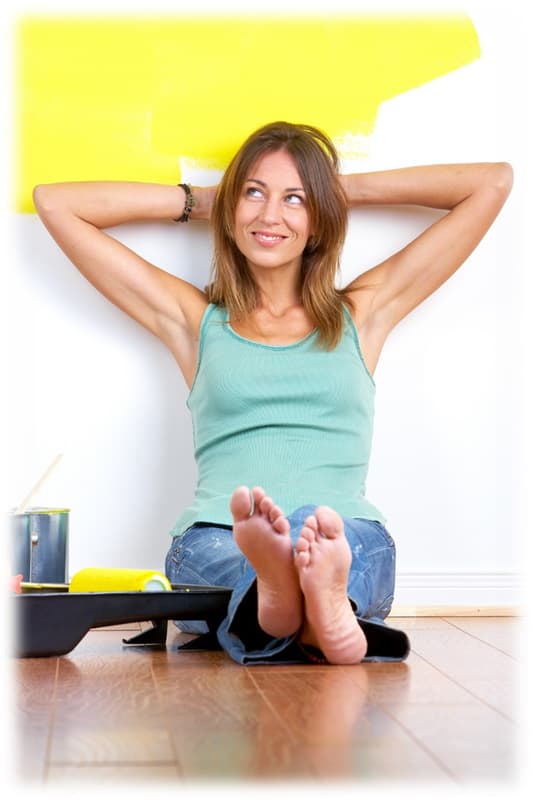 Think about it! You finally have a room of your own! No more of his dirty socks and sports posters. No more big-screen TV. No more picture of his mother. Now is your chance to reclaim your space and create a warm, beautiful bedroom, just the way you want it!
You can take one of two approaches to redecorating your bedroom. If right now you have completely sworn off intimacy and can't ever imagine letting another person into your bedroom, then create a wonderful, feminine space. When my husband moved out I created a very pink, fluffy room, basically a man-repellant! I loved it, knowing that he had no say whatsoever in my choices. I even got myself a twin sized bed - room for ONE, thank you very much!
Over time these feelings tend to retreat and you start to open up to the possibility of romance again. If you are at this stage, then create a warm, romantic space that makes you feel passionate and womanly, in colors that make you look beautiful.
After I moved on from repelling all men, I redid my room in a deep, rich grey with fresh white French country accents. Still very feminine and 'mine', but inviting in case I wanted to bring romance back into my home. I also went back to a queen sized bed, built for two. Of course, the cat and I have no problem taking up all that room ourselves most nights - it's still MY domain.
Getting Inspired
Redecorating can be overwhelming, especially as you face objects that hold so many memories. Start by flipping through home magazines and find pictures of rooms you love. Use that to determine your new look and colors.  

Then invite over a couple of girlfriends, pour a glass of wine, and pack up the old stuff. You shared that comforter, chose that painting out together, and those lamps were from his mother. You can donate lots of it to Goodwill, and even buy new things second hand if you're on a budget.
My room needed 16 hours of time, but only $600 in new stuff! And of course, paint is cheap! Once the room is cleared, create your new room, then lay back, and enjoy your new life! Not everyone gets a second chance to have it just the way they want! 


---
Article by Rebecca West. May not be copied or distributed without written consent of the author. Rebecca West is an interior designer and decorator in the Seattle area, and loves helping people bring their homes out of the past and into the present. As your life changes, your home should, too! You can visit her website at www.happystartsathome.com

---
Your wedding ring may another reminder of your ex you haven't dealt with yet. While some women choose to put it back for their children, others have it re-worked into a separate piece of jewelry. If you're not interested in those solutions, there is always the option of selling it and using the money to pay bills or buy something special just for you. If you're interest in this option, a reputable jewelry buyer is WP Diamonds.

Redecorating is just a small way to reclaim your space and rebuild your life after divorce. You can get more inspiration below: