Visitation After Divorce
Divorce is hard on everyone involved, but children are the most affected. These tips can help visitation after divorce go more smoothly and ease the transition of switching between Mom's house and Dad's house.
Taking the Sting Out of Visitation
By Susan D. Stiefel, M.Ed.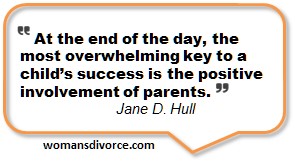 Divorce is a confusing time fraught with uncertainty and upheaval. Sadly, it can be especially difficult when there are children involved. In order to make it easier on them, divorced parents need to collaborate in order to make the visitation process as positive an experience as possible. According to Cathy Meyer, Divorce Support Expert, "Parenting your children is the most important job you will ever do, and if parents can work together in a peaceful manner, you can keep divorce from having "long lasting, negative effects on your children."
Parents need to show a united front for the children so that they will feel confident and comfortable during this difficult time. Here are some thoughts and ideas to ensure that your visits are pleasant for everyone.
Stay positive. Be upbeat when discussing the upcoming visit. Don't allow your differences with your former spouse overshadow your plans. Knowing a bit about some activities the children will be doing with the other parent is also helpful in smoothing the transition so you can talk about them together beforehand.


Be prompt. Being on time and being "there" with your children and in the moment reinforces the fact that you value these visits. Children need to feel that they are important to you, so focus on them when you are together. During the visit, you need to show them that they are your priority. Spend some quality time playing a board game or riding bikes together. Remember that your emails and text messages can wait.


No arguing. Arguing in front of the children is very upsetting to them, especially at drop off/ pickup time. Visitation is a time to focus on the children so it is necessary for both parents to do whatever is required to make the drop off/pick up transition as pleasant as possible. Dealing with your differences at a separate time will help make the process run more smoothly for everyone. Set up meetings to discuss issues with your former spouse or, if necessary, save your adult conversations for sessions with a mediator.


Calendar. Both homes should have a calendar specifically for the children. Together with you, the children can mark the days: weekday dinners, overnights, and vacation visits. This makes a potentially confusing schedule more predictable and easier to discuss and manage with young children.


Respect their individuality. If your four-year-old decides to wear mismatched sneakers, or his favorite mittens in July, celebrate his creative choices and say nothing as these items might be comforting for him. Also, respect their food preferences. If they like a certain kind of milk, but you prefer another, make sure you have a supply of their type. Don't force your preferences on them or create unnecessary power struggles. The goal is to make them feel welcome, valued, cared for, and comfortable.


Encourage comfort items. Have the children bring familiar items from home. This will help with the transition between houses. Having them bring a beloved stuffed animal, a special blanket, or a favorite book can be soothing to them while they are away. For older children, keeping a journal might be helpful. Help younger children remember to pack their favorite objects again when they get ready to go home.


Missing the other parent is OK. Make sure the child knows it's okay to miss the other parent. It may help to have the child draw a picture for the absent parent. Scribe for your children if they are too young to write. Be sure to bring and deliver the artwork at the end of the visit.


Overnight surprise package. For an extended visit, consider sending a little surprise package filled with goodies. This can simply be a package of envelopes, labeled, one for each day they will be away from you. Each envelope contains a small surprise: a pack of gum, a few stickers, a tiny box of raisins, etc., plus a little cheerful note from you. Children should know you'll be missing them, too!


Allow phone calls. Children should feel comfortable calling the other parent to say goodnight. They may also want to call if something unusual happens (e.g., bee sting, lost tooth, etc.) It is important for you to show them that it's okay to want to communicate with the other parent. In this way you will be demonstrating your effort in fostering a positive relationship between parent and child, and your willingness to do what is best for your children.
My suggestion is that you review these pointers with your former spouse and take action. Divorce can be a very difficult time for everyone involved, but when you work together as a team to co-parent, the children will benefit greatly. In her book, Raising Happiness: 10 Simple Steps for More Joyful Kids and Happier Parents, Dr. Christine Carter states:
"Prioritize your relationship with that co-parent of yours… because your relationship with your children's other parent is very important for their happiness."
Clearly, it is essential to make this a collaborative effort in order to make these visits more pleasant and meaningful for everyone, especially the children. 


---
Susan D. Stiefel is an accomplished educator, teacher, advisor, mentor, and family education coordinator. She feels her greatest accomplishment is being Mom to her two fabulous young adult children.

---
You can find more information on handling issues that come up with visitation after divorce in these articles:
Helping Children Adjust to Having Two Homes
When Your Kids Leave for Summer Visitation
Making Changes to Your Co-Parenting Plan
Dealing With Inconsistent Visitation