Steps in an Uncontested Divorce
Main Steps in an Uncontested Divorce
By Scott David Stewart, Family Law Attorney
Divorce is often a stressful and complicated process. The more complicated it is, the more of a financial and emotional toll it takes on everyone involved. Fortunately, there is a way to have divorce be simplified, far less stressful, and easier. Getting an uncontested divorce reduces both the financial and emotional stress on all parties. Here's how it works.  
An uncontested divorce happens when both spouses can agree on all terms of the divorce, including division of assets and debts, custody and child support, spousal support, and any other issues that may be included in the divorce proceedings. This is far easier and less stressful than a contested divorce where both parties are not in agreement and rely on a judge to define the terms of the divorce. Whether there is one issue or many, any situation requiring a judge to set the terms of the divorce is considered contested.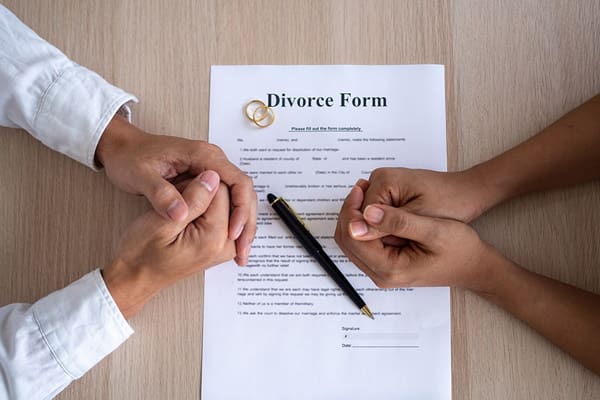 Obviously, an uncontested divorce is far less time-consuming, stressful, and expensive. Eliminating disagreement and a long, drawn-out series of court proceedings is always best - if you can get everyone to agree.
So how does it work? What are the steps in an uncontested divorce? Do you need a lawyer? We'll give you everything you need to know about getting an uncontested divorce, including steps to follow and when you need to consult a lawyer.
10 Key Steps in an Uncontested Divorce
You and your spouse have decided you can work together amicably to work out the details of your divorce. If you believe you can do this, you may be ready to move forward with an uncontested divorce. Every state's uncontested divorce process varies, but here are the general steps:
The first thing that needs to happen is the petitioner, or person filing for divorce, should determine if they or their spouse meet the residency requirements to file for a divorce in their state. Some states only require a spouse to currently reside in the state, but most states require residency of three months to a year or more. You can look up the divorce laws for your state or check with your local court to find out if you meet the residency requirements. 


Next, determine if you are able to come to a mutual agreement with your spouse regarding the terms of your divorce. (This will allow you to save time, money, and stress by reducing court visits and you can utilize a mediator instead of a judge.) If so, congratulations! You're ready to move forward. 


The petitioner completes all necessary court forms required by their state for an uncontested divorce. See this Justia article to get the necessary forms for your state. 


The Petitioner files the forms from step 3 with their local courthouse and pays the filing fee. These fees may be waived for individuals who cannot afford them, but will require filing out a fee waiver form (the court clerk will tell you how long it will take to process the fee waiver). Once the filing fee is paid, the court clerk will start a file, beginning the divorce proceedings. 


The Petitioner must give legal notice to the respondent (the other spouse) notifying them of their intent to get a divorce. A legal adult who is not involved in the case serves the the respondent with copies of the court paperwork. This has to be done with enough time for the respondent to address anything with the court if they desire. The person who served the respondent then has to fill out and send a proof of service form to the petitioner showing that they've correctly given the respondent the necessary forms. The petitioner then files this form with the court clerk. 


The respondent decides if they're comfortable moving forward with an uncontested divorce or if they have issues they'd like the court to intervene on. The respondent needs to file their response with the court clerk generally within 30 days of being served and pay the filing fee for the response. At this point, a legal adult who is not involved in the case will need to serve the petitioner with a copy of the respondent's court forms. As with step 5, the person who served the paperwork will need to fill out and send a proof of service form to the respondent, who will then file the form with the court clerk. 


The preliminary declaration of disclosure begins. In this step, each side will continue to exchange documents until both parties are satisfied with the terms of the divorce. This process helps all parties divide up belongings, assets, and debt. 


Alimony, child support, a parenting plan, division of marital assets and debts, and any other divorce-related arrangements must be agreed on and be incorporated into the settlement agreement presented to the court. 


In some states, there may be a court hearing in which the judge reviews the details of the couple's agreement to determine if the arrangements are legal and fair. The local court rules will determine whether only the petitioning spouse or both spouses need to attend the hearing. 


The judge approves and signs a judgment declaring the couple legally divorced. This cannot happen if both parties do not agree on every single aspect of the terms. Once the judge signs the judgment, the paperwork must be filed with the court to finalize the divorce. 
If at any point in the process both parties cannot agree on something, they will be required to go to court to reach an agreement. 

When You Need to Consult with a Divorce Lawyer 
Because divorce is an emotional process, and unraveling a relationship can be complex, consulting with an attorney throughout the process is recommended. At a minimum, a lawyer should be hired to review any paperwork before filing, both to ensure everyone's best interests are considered and to ensure all paperwork is completed correctly.
While it is absolutely possible to complete an uncontested divorce from start to finish without a lawyer, there are a few instances where you may want to consider legal assistance. A divorce lawyer can be incredibly helpful in answering questions or helping to complete necessary paperwork correctly, which will avoid the need for future amendments and ensure the divorce is completed as quickly as possible. They can also assist in helping set reasonable expectations and offering advice when it comes to alimony, child support, and custody agreements, ensuring a fair agreement is being reached.
It is also recommended that you consult a lawyer in the event that you have been married for a long time, have a disabled child, feel that your case may be complex, if you live in a community property state, or have other extraordinary circumstances that may require special consideration.
---
About the Author 
Scott David Stewart is the founder of Stewart Law Group with offices throughout Arizona. He is a family law and divorce attorney in Phoenix who has helped many clients navigate the legal complexities of divorce, child custody, spousal support, property division, parental visitation, and child relocation disputes. 

---
Related: 
Benefits of an Uncontested Divorce  
Start your Uncontested Divorce Online